Shinsui's Enigmatic Fool on a Roof
2/13/2016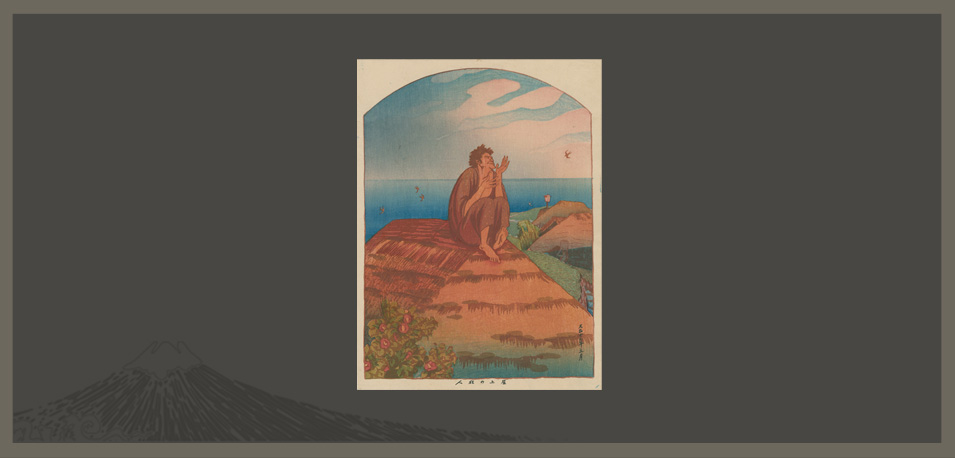 Fool on a Roof, 1921 is Shinsui's 25th print for his publisher, Watanabe. This extremely rare pre-earthquake design to our knowledge, exists only in trial states, and though it was intended for a numbered edition, not one numbered impression is known. In this one case, Watanabe must have indulged Shinsui's desire to produce creative imagery by moving forward with trial states of this design, but predicting a commercial flop, he never finished the project. Now, the commercial flop is regarded as the artist's most bizarre and at the same time most mysterious and intriguing print. The first time I saw this image in person was at a Japanese dealer's auction over ten years ago. We had been watching the usual boring parade of beat up Hiroshige and Kuniyoshi prints being tossed into the middle of the room for bidding when one of the older dealers floated an absolutely brilliant Shin-Hanga print to the tatami floor for bidding. Seeing this print arriving at the auction floor was like seeing a killer whale jumping out of a koi pond. It didn't take long before the item was knocked down for nearly 1,000,000 JPY, at the time, equivalent to more than US $11,000. That was many years ago, and we have not known of another impression appearing anywhere since then. Recently, however, we have had the incredible good fortune of finding a very fine example, which we are delighted to exhibit.
The subject of the print, a "Fool on a Roof" seems on first glance, disturbed and maybe a little dangerous. He looks like the kind of guy who might inspire you to cross the street to avoid having direct contact with him. Looking a little closer at his face, however, we can see that he isn't so frightful after all. He cannot control his facial expressions, his hands, or his feet, but his beatific expression and infant like body position suggest that he is more childlike than he is menacing. By modeling his figure this way and bathing him in warm light, Shinsui wants us to have compassion with the subject of the print. Watanabe Tadasu, in his introductory essay for the Shinsui catalog Raisonne' comments (regarding the artist's second print Yujo) that Shinsui "must have had compassion for the loneliness of the woman (Yujo) when he visited the red light district himself; (compassion for) the very loneliness she felt when being left alone after days of entertaining customers whether or not she liked it. In this work his eagerness to show her state of mind is obvious." Shinsui's motivation to create Fool on a Roof may also have been inspired by his tendency towards compassion for his models. Shinsui's fool also compares favorably with Victor Hugo's Hunchback and though we may judge him harshly at first, knowing he feels loyalty and love, we are finally moved towards compassion and a desire to understand him. In the early 20th century, Russian and French literature was popular in Japan thus the unusual subject of the print may have some basis in foreign literature as well.
Shinsui's print displays the fool's unrefined, uninhibited emotion and sensations that are so vivid we are moved to envy the fool. Because he can't control his motions, he is excused from mundane tasks of his fellow villagers. Indeed, Shinsui emphasizes the fool's exempt status and divine experience by placing a lone worker in the middle ground while our fool is free to enjoy subtle, daily pleasures the worker may not even notice; pleasures available only to fools, scholars and aristocrats. Shinsui poses the fool's hands as if he is enthralled with the sublime beauty and divine warmth of the sunset he experiences. We can only deduce the power of the sunset because the sun is setting behind our backs, nevertheless, we share his experience as fellow humans merely by becoming engaged with the warm colors and humanness of the printed image. Shinsui and Watanabe collaborated on developing exactly the right colors in each print, sometimes layering the same pigment over and over again to obtain the deep rich tones that convey atmosphere and emotion. Here the effect of the complex of warm red and ochre tones in the foreground invite us to take a closer look and enjoy the sunset we cannot see.